Light Circle
A spirithood where you belong.
A global community space of ritual, remembrance and spiritual growth.
Anchoring spiritual growth from a frequency of love, compassion and oneness.
Light Of Wellness is a place of community. And it's our intention to unite spiritual people so that they can rise in consciousness and become more awakened, aware and aligned with their inner being and truth.
The Light Club is a spiritual gift that allows you to open the door to your fullest potential, your own higher purpose and global destiny.
Here, you'll be empowered with guidance and practical ways to support you to heal, grow and spiritually elevate.
LIGHT CIRCLE
Unlock your spiritual destiny
Many ancient cultures have prophesied a global awakening for eons. That we would consciously co-create an age of peace, harmony, joy and love.
To do this, we need as many lighthouses as possible to become the beacons for our friends, families and communities.
This is YOU.
But to do this, we first need to come back to ourselves and gather the tools we need and learn how to work better together.
We live in a world where our daily lives are hectic, where the energy within and around us can feel intense and distorted, and where we are often trapped in our minds or our subconscious patterns rather than being connected and led by our hearts.
Even as the world awakens and begins to open up, many still feel isolated and alone. Now more than ever, we need tools to help us navigate our ascension. Processes, rituals and routines that can immediately guide us back to our centre on a daily basis and help us find a sense of inner harmony.
We also need a conscious community. To create profound relationships in our physical, spirit and cosmic worlds. By yourself you can only do so much – with a team you can accomplish anything.
It's about knowing that we are not alone in what we are feeling and experiencing and have an anchor point that we can come to for support, love, wisdom and guidance.
We all can make this great transition into this new heart-centered reality and remember how to self source.
Only then can we be in true service to our global awakening.
Welcome to your LIGHT CIRCLE!
Sacred monthly content and conscious collaboration to awaken to your true self and celebrate life as spiritual growth and evolution for all.
What is it?
The Light Circle is a community platform, unrelated to social media, where we can all connect, share, learn and be reminded to drop into that sacred space within us daily.
This is a platform that gently yet powerfully prompts you to remember that life is the ultimate experience.
Each month you'll receive:
A HUB FOR ALL
You may be newly spiritually awakened and on a path of self discovery or you may be further along your journey, wishing to progress your spiritual wisdom and expansion. Whichever stage you are at, the Light Circle will speak to you and awaken the power of the Divine within you.
SPIRITUAL LIBRARY 
Gain access to the expansive Spiritual Library which is bursting with information, articles, discussion posts and freebies for a wide variety of spiritual topics. Here, you can increase your knowledge of the topic you're interested in and get involved with sharing and connecting to the community by contributing to the feeds in these topics.
EXCLUSIVE CONTENT
As well as all of the content in the Spiritual Library, new and exclusive content will be uploaded to the platform every month. From spiritual insights, live readings, meditations, interviews, resources and much more.
DEEPENING PRACTICES
Spiritual, mindful and focussed meditations are absolutely essential for the spiritual and personal development journey. Delivered by Natalie and other contributors, you will never be short of free guided meditations to listen to for a wide range of topics and abilities.
LIVE GROUP SESSIONS
Spiritual awakening and growth is an essential part of our journey in this lifetime. Through these spiritual and psychic development classes, Natalie will support you in trusting in your inner guidance so that your soul can lead the way. You'll learn how to awaken your psychic abilities and self healing capacities.
LUMINOUS INTERVIEWS
There's nothing more fascinating or inspiring than learning about other people's journeys. You will have access to free interviews with spiritual, wellness and holistic practitioners and experts as well as with like-minded spiritual souls who have amazing stories and wisdom to share.
EXCLUSIVE DISCOUNTS
Receive special discounts on our courses, trainings and retreats (for annual subscribers)
THE DIRECTORY
The Light Circle's directory has two purposes. If you're looking for a local spiritual or holistic practitioner, an event workshop or circle, then this is the place to find them. As a spiritual or holistic business owner or entrepreneur, you can advertise your business. If you'd love to join us, reach out here.
The Light Circle's intention is..
To create a sacred online space where we can come together in community, and have access to processes, tools and wisdom to support you in your remembrance and spiritual growth.
Not only is this a place for you to receive, but also a space for you to give. You are welcome and encouraged to share your own experiences and to showcase your own special and unique offerings that will benefit the community.
This is a space where we can all thrive side by side, no matter where you are in the world.
This isn't another thing on your to-do list. The information and materials can be enjoyed in your own time. There will be a mixture of live content and pre-recorded content that you can access and use as much as you please.
It's also going to be a lot of fun! No matter what, the Universe loves sharing cosmic jokes with us. Our shared insights and reflections always bring about the Light, no matter what we are traversing. We will move, dance, breathe, pray, journey, listen, journal and BE all that we are here to be.
This platform will have a vast ripple effect, because everyone that joins will be saying YES to raising their frequency and in doing so, being of greatest service to their hearts at this incredibly important time.
Hey, I'm Natalie!
Spiritual Healer, Reiki Master and Teacher, Speaker, Meditation Facilitator.
I'm here to support you to go deeper on your inner healing path so you can move beyond feeling broken and stuck to feeling safe in your body, shift into emotional coherence and transform your story.
I believe energy work and developing healthy self-awareness in your own life is easy. The problem is that us humans tend to overcomplicate things.
After practicing Reiki for 24 years and teaching for over 10 years, I discovered that self-awareness is a skill that needs to be learned, practiced and refined. It's helped me manage my emotions better, make better decisions, increase my confidence and has improved the way I cope with stress.  
Now my mission is to teach everyday people how to reclaim not just their wellness, but also their inner peace, purpose and joy.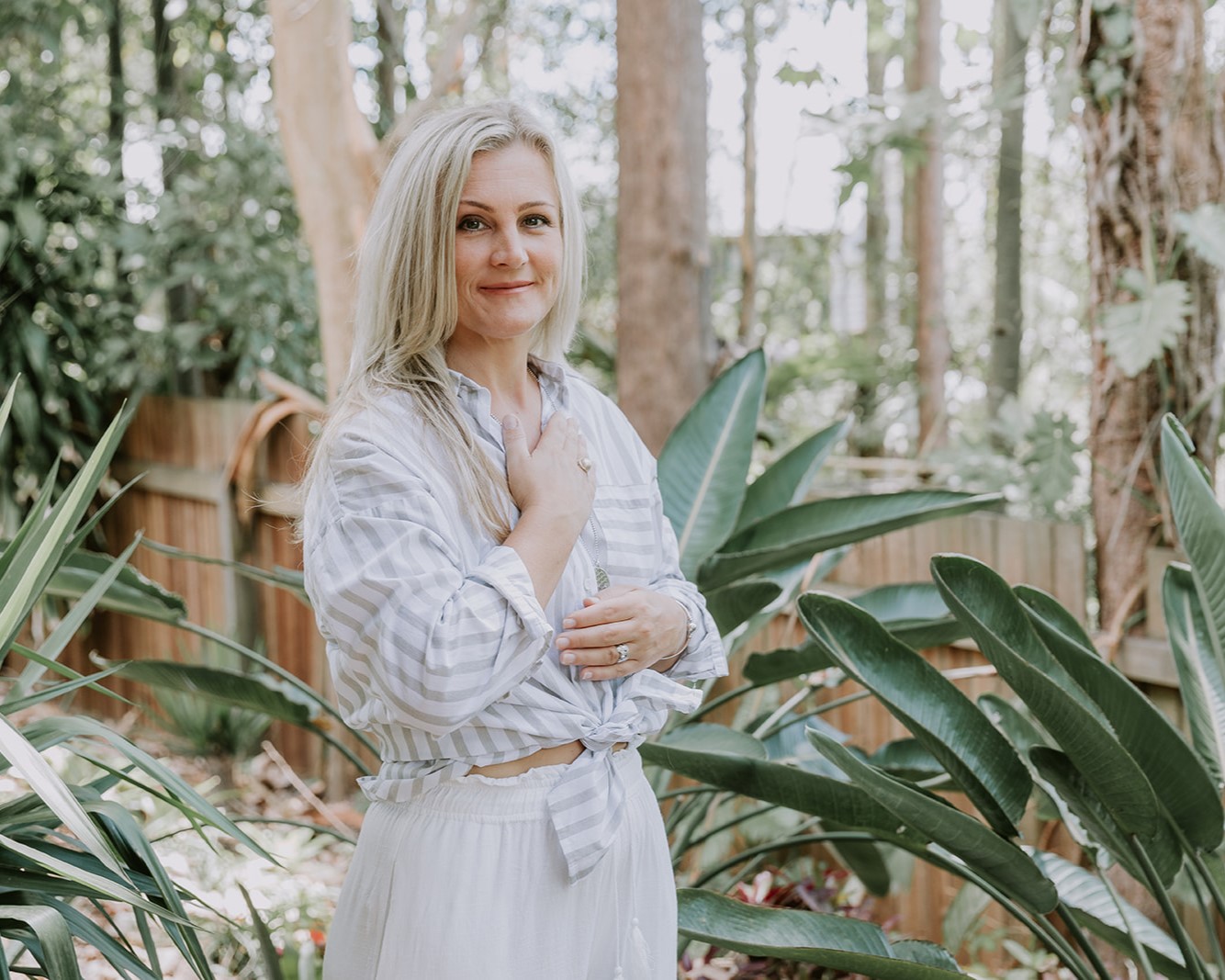 If you're seeking a way to…
Invite more LIGHT into your life on a daily basis
Reconnect with your inner guidance to gain clarity
Discover and live your true purpose
Embody rituals as a way of life
Explore sacred space and other holistic modalities
Feel connected to a global community of like-minded family
Gain tools to shift heavy energy and become a light warrior
Feel grounded, strong and unwavering on your path
Heal past wounds and repattern your subconscious beliefs
Effortlessly manifest the life you want to be living….
THIS SPACE IS FOR YOU
How it works
Access to this entire platform is ONLY $11 a month (billed monthly)
The value in this is absolutely incredible.
The monthly content is valued at way over $250, yet all you pay is $11 for FULL access!
This will be where the majority of my content will now be contained, in a private yet collective space for those who are ready and craving that daily dose of remembering and reconnecting to who you truly are.
For less than the price of a single yoga class, for less than the price of a couple lattes, you get to join a community and have access to tools that are truly designed to help you thrive.
This is a collective endeavour – this is something that we co-create together! This space has infinite potential! What you can bring to this sacred container is needed and vastly appreciated.
So join me in Light Club Brothers, Sisters and Global family!
Let's reconnect, awaken and transform. Together we remember and in doing so, support the rest of the world to do the same.
It's no coincidence that you are here.
Awaken to who you are and what is possible for you and humanity.
Monthly Membership
12x Monthly Payments
Access to a supportive spiritual community;

Access to an expansive Spiritual Library;

Exclusive Monthly Content including interviews and online resources;

Channelled & Guided Meditations;

Spiritual & Psychic Development Group LIVE Sessions; and

Access to the Directory listing accredited spiritual and holistic practitioners. 
Annual Membership
one-time payment
Access to a supportive spiritual community;

Access to an expansive Spiritual Library;

Exclusive Monthly Content including interviews and online resources;

Channelled & Guided Meditations;

Spiritual & Psychic Development Group LIVE Sessions; and

Access to the Directory listing accredited spiritual and holistic practitioners.

Special discounts for courses, trainings and retreats.
Join our global community of ritual, remembrance and spiritual growth today!
Our mission is to inspire you to grow and ascend.
The Light Circle's mission is to help people from all walks of life, in all corners of the world, grow and unlock unity consciousness. As the community grows, with your support, we intend to invest in, fund and develop:
support for community projects which encourage oneness and planetary healing;
events to inspire and facilitate transformation;
retreats for spiritual refreshment and renewal;
business and workplace training for integrating higher guidance into our world of work.
Are you passionate about spirituality, personal growth and wellness? Would you love to share your knowledge and wisdom with like-minded people? Then join us!
THIS SPACE IS FOR YOU
FREQUENTLY
Asked Questions
Here are some frequently asked questions about this process.
How much is it to join?<br />
Pay only $11 a month (billed month to month)
Who can join?
You may be newly spiritually awakened and on a path interested in self exploration and soul connection to achieve a greater understanding of who you are, why you think, feel and behave the way you do, and how you are connected to the universe. Or, you may be further along your journey, wishing to progress your spiritual wisdom and expansion, perhaps feeling a calling to serve others on their spiritual paths. You may be a lightworker, spiritual business owner, healer, mentor or spiritual teacher. Whichever stage you are at, the Light Circle will speak to you and awaken the power of the Divine within you.
Is the content live?
There will be a mix of live and pre-recorded content each month.
How do I share on the platform?
You can share freely just as you would for example in a FB group. You can share posts about your experiences, insights or if you need support. You can also share your own business or offerings if they are relevant and applicable to the community. We do ask you to be discerning here so that the space remains heart-led, supportive and pertinent to the themes and group consensus. Contact me here to discuss in more detail.
I've never done this type of work before, can I join?
Absolutely! If you feel called to be here, you are absolutely welcome. The content is accessible for everyone whether you have worked with me before or not or whether you have experience with this work or not.
Still have questions?
If you cannot find an answer to your question in the FAQs above, feel free to contact me.
Join a global community ready to support you.
Gain monthly access to wisdom, rituals, processes and tools that inspire you to spiritually grow and ascend.
You are ready.
The time is now.